SASIB SMK 3D SIZE CHANGE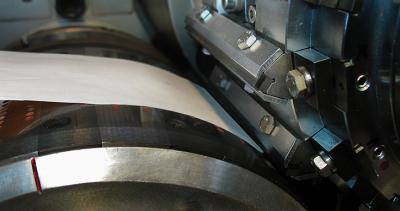 SASIB presents SMK 3D, the new cigarettes maker that distinguishes itself for its capacity to perform a quick three-dimensional size change. A new maker, unique on the market for its flexibility and capacity to easily support different sizes.
Carrying out the size change on the machine becomes now a straightforward operation, thanks to the use of preset back-up groups and simplified fixation systems.
The technicians carrying out the size change operations are assisted by a wizard (PDA – Personal Digital Assistant) appearing on a device that displays in sequence all operations to perform. An optical reader scanning the Data Matrix Code placed on the groups involved in the procedure is connected to the same device.
All the size change groups are placed in trolleys dedicated enabling to keep them organized and easily detectable. Not only for the PDA contribution, but above all thanks to simplified and already preset kits, that often do not even require wrenches and tools, the margin of error is therefore virtually inexistent.
SMK 3D represents a solution unique in its kind, able to support a dynamic and diversified market, and therefore to increase flexibility of the production line.